I'm sorry I missed last week's "Six to Buy." My dear husband departed on his first deployment last week and this blog was the last thing on my mind.
I bring you this week's Six to Buy, inspired by a favorite food of mine ... BACON! Drool is hard to get out of a keyboard so prepare your viewing area accordingly. I know you are wondering how this is going to play out for some of the categories, but don't you worry. I got it covered!
FOR THE WALL
"Baconfish" print
TO WEAR
(it's a two-fer!)
Oh yes, that tuxedo is bacon patterned. Guess what else? It is also SCENTED!
(I would have liked my sophomore year prom date so much more had he worn this.)


How about a bacon belt to keep those pants up?
CRAFTY SUPPLY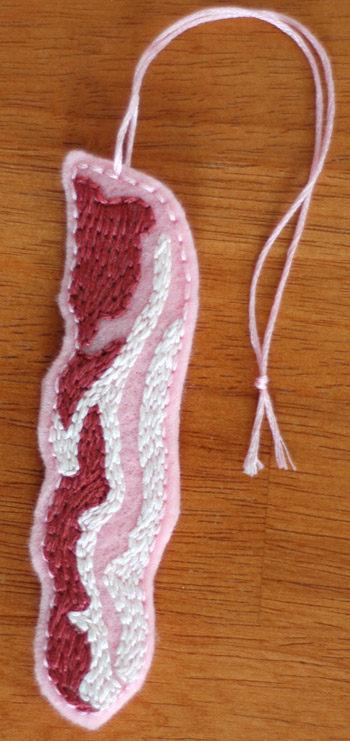 "Bacon of Hate" DIY from the Anti-Craft
(I'd eliminate the string so it looks less tampon-ish)
VINTAGE/ANTIQUE
vintage cast iron bacon press on eBay


FOR THE HOME
Nothing looks better on a table than bacon placemats!
Unless you have this bacon butter dish there too.
RANDOM AWESOME
I have worn one of these before and they really are awesome.