Ryan McGinness is "known for his original extensive vocabulary of graphic drawings which use the visual language of public signage, corporate logos, and contemporary iconography." Wikipedia
I don't really know how to describe his style better than that. His design and work has inspired many, many artists and has determined a major trend in graphic design.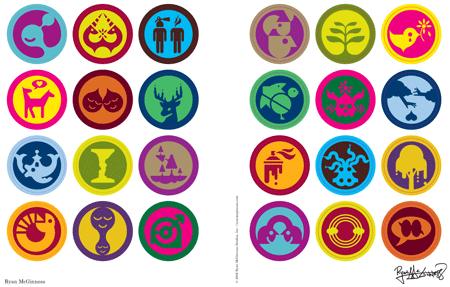 He is one of my favorite artists because I really appreciate the simplicity and graphic nature of his "logo-style" art as well as his ability to assemble a cohesive collage out of a mash-up of clip-art graphics. While I am tired of seeing unicorns and dripping clouds on the t-shirts and skateboards of youth I still appreciate how he has evolved as an artists while staying true to his personal style. Lots and lots of people copy his work but they rarely manage to capture the life that his artwork has.
I am especially excited to see his most recent work (above) and how the compositions are becoming more abstract, intricately layered fields of color while the minute parts of his art are still clearly defined icons. I can only wonder how his art will determine graphic design trends in the future.
If you look around, his influence is everywhere!